San Francisco Co-Chair Artist Ellen Howard's Recent Adventures and Thoughts!
One of the things I enjoy the most about being involved with the CAC is hearing updates from our cherished and valued members. I wanted to share Ellen's most recent artist newsletter and encourage you all to subscribe if you haven't already.
Hope you are all having a great summer!
Best,
Marlo De Lara, Director of Chapter Development
————————————————–
"There is nothing more vulnerable than creativity…
It's not about winning, it's not about losing,
it's about showing up and being seen."
–Brene Brown
New Work
"Along the Golden Path", 20×20
Below are two painting I did on a wonderful plein air painting day with Kim Lordier several months ago. I was really inspired by the beautiful grouping of Eucalyptus trees and the bright yellow wild flowers lining the hillside. I attended a great exhibition by the California Art Club up in Folsom and had the opportunity to visit the Crocker Museum and view Granville Redmond's impressive exhibition " The Eloquent Palette". I was so inspired by his work! Some of my favorite paintings were of Redmond's poppies. I was excited to paint this scene on a larger scale and try to emulate the field of poppies by Redmond in my own work.

"Just Blooming", 8×8 and "Along the Path", 9×12 are part of the "Little Windows" Exhibition at Holton Studio Gallery in Berkeley. Please go to https://www.holtonframes.com/gallery/ to view this wonderful show!
The big question is whether you are going
to be able to say a hearty yes to your adventure.
— Joseph Campbell
Curated by the Sea
"Land & Sea"
July 27th to August 31st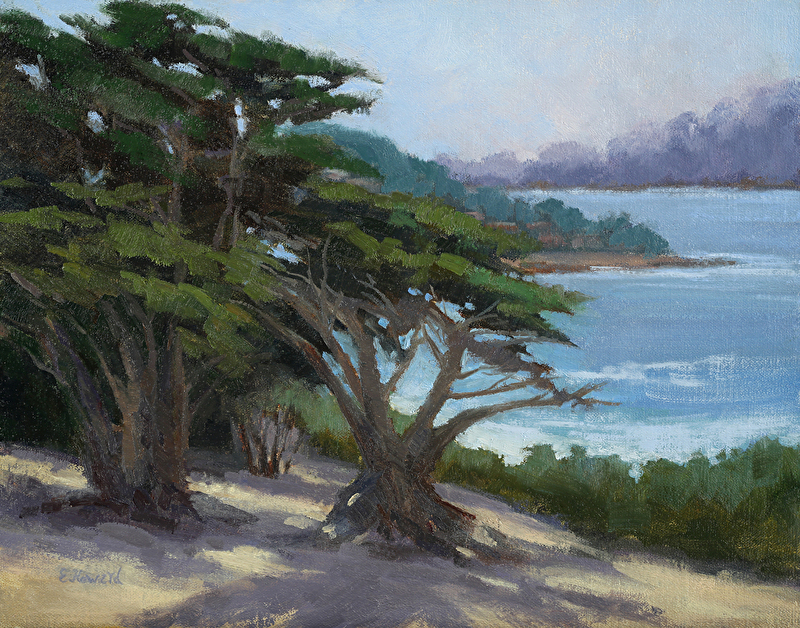 I'm honored to be the Featured Artist in the "Land & Sea" exhibition at Curated by the Sea Gallery in Capitola. I have 6 paintings in this exhibition! Being by the ocean and painting on a cliff or with my feet in the sand is one of my favorite things to do.This exhibition highlights some of my adventures in Carmel, Mendocino and Pescadero. Please go to https://www.curatedbythesea.com/to see my work and all the other artists represented.
"Showing up is essential. Showing up consistently is powerful. Showing up consistently with a positive
outlook is even more powerful."
Jeff Olson
BoldBrush Fav 15% Jury's Favorite June 2020
"Beyond the Light"
Very honored to have "Beyond the Light" chosen as BoldBrush's FAV 15% for June 2020. This is the 4th month in a row that my work has been chosen for this honor.
"There's nothing more daring than showing up,
putting ourselves out there and letting ourselves be seen."
–Brene Brown
New Zoom Workshop at the Mendocino Art Center
September 7, 9, 10 & 11th
10am to 12pm each day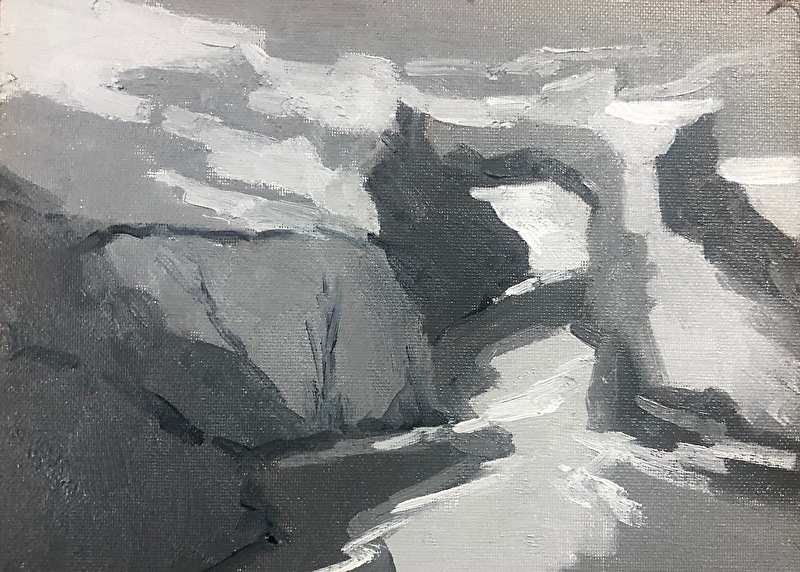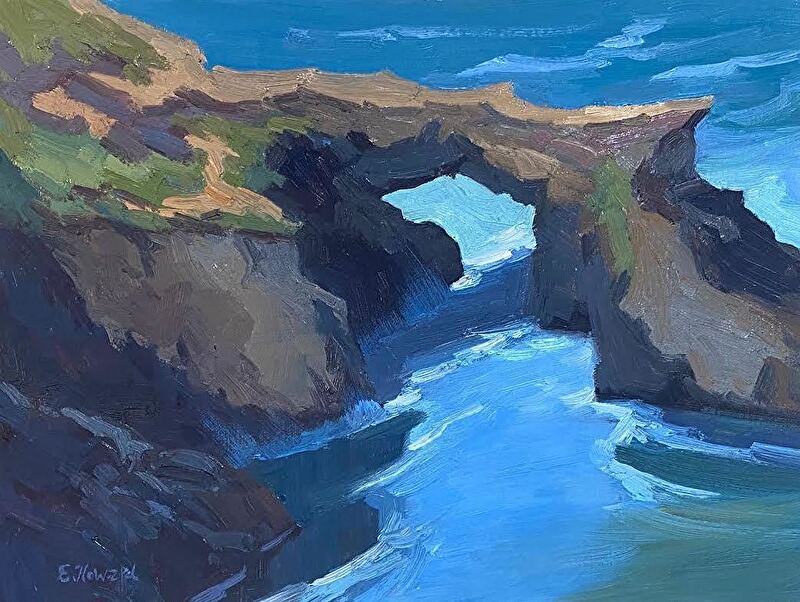 The above images are from work done in a Zoom workshop I taught the first week of July. My students spent the first day of the workshop working on drawings and value studies from photos that I provided of the Mendocino area. The next two days we used these studies to paint in color. We focused on creating strong compositions, design, and making sure our focal point caught the viewer's eye. Each day I did a demo and the students worked on their paintings each night. We wrapped up with a critique, a review of techniques learned and a I did a small sunset demo. It was amazing to me to see the passion and desire to learn possessed by each of these students!
If you'd like to register for my September Workshop, please go to
Student testimonials:
"I thoroughly enjoyed Ellen's teaching style; her step by step demos with clear comments were helpful and clarified many aspects of painting for me. Since I live in Mendocino, I really appreciate learning what colors she mixed for local scenes. A real plus is that I love her paintings, always great to learn from someone whose work you admire! Ellen was very receptive to her students by being open to answering all questions and suggestions. I look forward to studying with her again! –Jacqueline
"Ellen is a wonderful teacher! What I learned most was how to control the values by mixing all the colors beforehand so you can see the relations and values much better before you even apply the paint to the canvas." –Ingrid

Weekly Plein Air Classes on Wednesdays from 9:00am to 1:00pm various locations in the Bay Area.
Teaching plein air every Wednesday has been a gift for me. I have really enjoyed connecting in person with the students. Its become evident that seeing someone in person, and showing up — despite the limitations of wearing a mask and being socially distant — has helped re-invigorate our artists. The students are eager to learn and be with their peers. If you'd like to join us, please email me at ellenhowardart@gmail.com
"It had long since come to my attention that people of accomplishment rarely sat back and let things happen to them. They went out and happened to things."
– Leonardo Da Vinci
California Art Club Leadership
I had the privilege of meeting with Peter Adams, President and Elaine Adams, Executive Director of the California Art Club in mid-July. It was a wonderful opportunity to visit with them, hear about upcoming events at CAC, see the incredible work in the American Legacy Gallery and tour their beautiful home. Peter and Elaine Adams are the epitome of showing up! They are passionate leaders for the art community, having been the force behind the California Art Club since 1993. Many people are not privy to see behind the scenes of most organization, but I have been fortunate to get a glimpse, in my role as co-chair of the SF Chapter. Peter and Elaine has continually promoted the arts and artists through educational programs, exhibitions and community events. They run the staff at CAC, work closely with all the 26 Chapter chairs and are personally involved with the 1,800 plus artists that make up the California Art Club. During these difficult times Peter and Elaine are still showing up and finding solutions to move forward for the Club and all the artists that make up CAC. I truly admire their dedication and passion!

Paul Kratter and I were interviewed about the California Art Club's "Our World Reimagined" exhibition. Our interview can now be viewed on Youtube! Chuck Kovacic was our wonderful host and Gary Spisak our dedicated technical manager from CAC. Paul and I highlighted 7 artists in this beautiful Exhibition: Gil Sambrano, Deladier Almedia, Robert Porter, Kate Martin, Erica Norelius, Susan Sarback, and Leslie Landers and talked about our future plans for the SF Chapter of CAC. Please go to http://www.californiaartclub.org/exhibition/our-world-reimagined/ to view this great exhibition!
CAC's State of the Art with San Francisco Chapter – Interview
Youtube: https://youtu.be/ju_nI6gynr4
To join our SF Chapter of the California Art Club Facebook page at https://www.facebook.com/groups/93638623779/?ref=bookmarks
The Art of Showing Up!
"You choose the future with your actions each day."
This way of thinking really is helpful. Wherever you invest your time, the results will compound, like interest on the money you invest over the decades. If you want a better future, go small. Focus on the actions you're going to take today, tomorrow, and this week. Trade grandiose goals in for small actions you can take right now and build upon.
Small is extraordinary." –James Clear

I've been reading James Clear's book on "Atomic Habits" and how making small changes in your daily habits can amount to huge improvements over time in reaching your goals and achieving success. I also see these habits as ways that we regularly show up for ourselves, our family, friends, our community and our careers. I believe that during Covid it has become even more important to pay attention to each of our ways of showing up and not retreat into solitude or a giving into a feeling of isolation. For me, making sure I carve out time to exercise, read, play with my dogs and meditate are ways I have shown up for myself. Keeping myself mentally and physically strong helps me to show up in other areas of my life, in my career, and with my family and friends.

I recently taught a online Zoom workshop with the Mendocino Art Center. For many artists and instructors this has been a new way of receiving instruction and teaching. I was excited to teach this class for several reasons; I really do love teaching and connecting with students, I was comfortable with the Zoom technology and I was very familiar with the gorgeous Mendocino scenery. However, as we got closer to the scheduled time of the workshop, I had low attendance. I knew that if I went forward with the class it would not make a lot of sense from a financial stand point. The Art Center really wanted me to teach this workshop and something in my gut told me to move forward regardless — to show up. I spent many days pouring over photos of Mendocino, doing eight pencil drawings, 5 small values studies and 4 color studies in preparation for this class. It was important to me to show up prepared and at my very best to give value to my students regardless of the class size. The workshop went very well and I thorough enjoyed meeting these students. The blessings of having a smaller class enabled me to get to know the students better, share our artistic stories, and enabled me to give them more one-on-one feedback. It was very enjoyable and less stressful (even though I lost internet connection once and had to reboot!). My workshop students really needed to connect and to get instruction. I was grateful that I had made the decision to move forward and teach. I believe the need to create art, having instruction and providing a sense of community during this time is vital. The happy and unexpected result was that 3 days later, because of the great student reviews, the art center reached out and asked me to teach another workshop for them in September. I am excited to do so!

Showing up for ourselves and doing our best work regardless of the outcome is one of the most powerful things we can do. For me, it bring a great sense of well-being and I enjoy feeling that I have helped someone and contributed to their learning process in their artistic journey.

"The biggest gift you can give is to be absolutely present, and when you're worrying about whether you're hopeful, or hopeless, or pessimistic, or optimistic, who cares? The main thing is that you're showing up, that you're here and that you're finding ever more capacity to love this world because it will not be healed without that. That was what is going to unleash our intelligence and our ingenuity and our solidarity
for the healing of our world."
–Joanna Macy